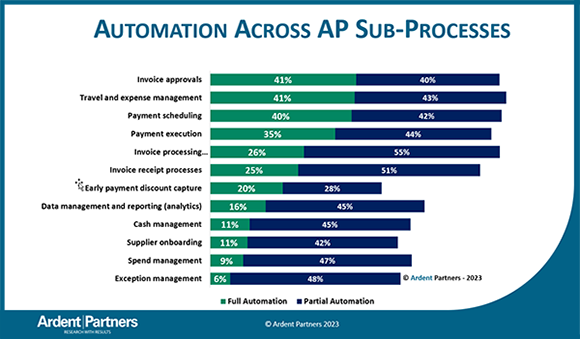 When it comes to adopting automation some AP departments are ahead in the game. The Ardent Partners' annual State of ePayables survey has some insights as to how automation levels stack up across core AP functions. While some functions are predominantly automated, others are on the verge of a shift.
Invoice Approvals & Travel and Expense Management are Leading the Way
The most fully adopted automation is seen in Invoice Approvals and Travel & Expense Management, both at 41%. In addition, these functions have been partially automated at another 40% and 43% respectively. This indicates that the majority of AP departments surveyed have recognized the efficiency of automating these tasks.
Payment Procedures are Catching Up
When it comes to Payment Scheduling and Payment Execution, the automation numbers are quite high as well, with 40% and 35% of those surveyed having fully automated these processes. However, partial automation still dominates, especially in Payment Execution at 44%.
Invoicing: There's Still Room for Growth
The numbers dip slightly when we move to Invoice Processing and Receipt. Only 26% have fully adopted automation for Invoice Processing, while 25% have done the same for Invoice Receipt processing. However, the significant figure here is the partial adoption: a whopping 55% and 51% respectively, signaling a transition phase for many of those surveyed.
Early Payment and Data Management
Early Payment Discount Capture had lesser automation with only 20% fully adopting it, only 28% partially adopting it. Data Management and Reporting, vital for any business, is low at 16% for full adoption.
Crucial Yet Lagging Behind
The lowest automation levels are seen in Cash Management, Supplier Onboarding, Spend Management, and Exception Management. Though these are important functions, only 11%, 11%, 9%, and 6% respectively for full adoption. Partial adoption for each of these are in the mid-40% ranges.
For most functions, partial automation often eclipses full adoption. This could be indicative of businesses testing the waters, the complexities of fully automating certain tasks, or budget constraints that prevent a complete shift.